We are entering 2020. with a totally new Geelancer design platform.
Old, but brand new Geelancer design platform is here. We know how much change, especially big ones, can bring discomfort to people. But we just had to make big changes. A lot of them. We changed everything, actually. But the essence has remained the same: connecting clients and designers in the best, safest and most efficient way. That designers make money and clients get the design they need.
Responsive design
The reactions to the new design are great. We received a lot of praise from both clients and designers. Although forever at heart, the old design had to go away. In the era of mobile devices, mobility is something that is of great importance to us. Business owners, project managers, entrepreneurs and all those representing companies, brands and projects are constantly on the move. We wanted to allow them to access Geelancer design platform even more and work with designers easier.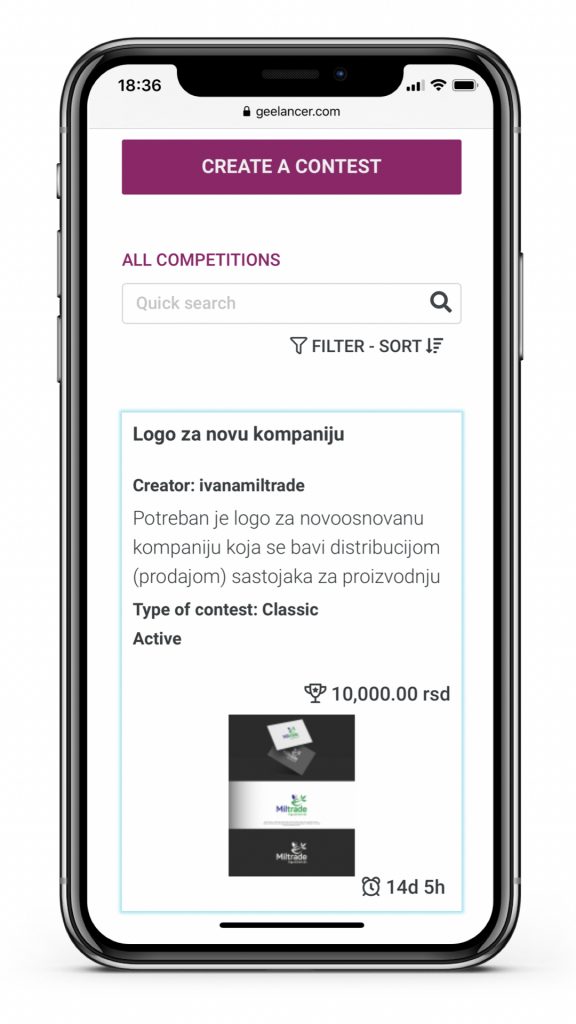 With responsive functionality, a completely new design is introduced. Nothing like the previous one. Quite bigger titles, bigger fonts, bigger web buttons, a simple and self-supporting stream. We were guided by clean design. All with the goal of making our platform easier to read, find information and use. And we believe we have succeeded in that.
Design contest automatisation
Of course, nothing matters without functionality and good service. New design has allowed us to change, from the root, not only the way things look but also how that work, especially design contests that are published on Geelancer design platform and marketplace. While also keeping the essence and the heart of Geelancer.
Now, file exchange between design contest winner and client is done over our platform, directly on design contest.

Designers will now upload final design works in the exchange section within design contest, where clients will download them. After the client is sure everything is great and that he has got proper and final design files, he will mark the exchange as a successful one, after which the designer will be paid. Clients will have 30 days to download all the files from the server.
Classic and Premium design contests
Goodbye Klasik design contests, hello Classic design contests. What used to be Klasik + design contest is now Classic. The basic type of old design contests are no more. There was no obligation from the client to pay the full amount of the prize to the Geelancer before the announcement of the design contest. And we have changed that. For the simplest of reasons: the safety of all our users is of utmost importance to us. We no longer want design contests that are not secure on our platform, and for which we cannot guarantee that the designer will be paid if he or she has met, as a winner, all the requirements of the competition. All payments must go through our platform from now on. We keep all the prizes in our escrow.
On the other hand, what used to be Guaranteed design contests are now Premium. With three major differences:
While on Classic design contests all designers can apply, on Premium design contests only Premium designers can work. Premium designer membership is now totally free and must be earned. Only designers with a good portfolio, a bigger number of wins and successful GeeMee™ jobs can earn the right to call them Premium designer on Geelancer design platform, thus earning more working on Premium (expensive) contests.
Premium design contests are more expensive for the clients and winning prizes are 20+ times bigger than ones on Classic design contests.
Premium design contest can be without a winner.
Ratings
Trust is also of utmost importance to us. We strive to make the Geelancer platform the best place for designers and clients, where they will feel more secure, relaxed and, simply put, comfier. One way to increase trust, not only in Geelancer as a design service but also between users (designers and clients), are certainly ratings. From now on, any collaboration between the designers (as winners at design contests), and the clients will be evaluated, among themselves. After a successful or unsuccessful file exchange, the client will be able to rate the designer, from 1 to 5, and vice versa. Thus, all users will strive to be as professional and cooperative as possible, to the mutual satisfaction. If someone is not like that, they do not fulfil their obligations, they will receive lower ratings, which will be a strong signal in future jobs.

GeeMee™
For a long time, the Geelancer platform has been the largest design platform in south-east Europe. We have brought together tens of thousands of great and talented designers and great clients who have worked together through design contests. But a very important part of Geelancer has always been the Portfolio. A special place on our service where designers showed all their creativity, knowledge and talent. On the other hand, many clients who, for whatever reason, did not want to meet their design needs through online design contests, were able to hire any designer, without any restrictions, for free. We did not interfere with the cooperation between them but allowed them to negotiate the terms of the cooperation themselves. We had no insight into the price of the job, the terms of the job, the deadlines for the job, the method of payment, nothing.
Geelancer's mission is, among other things, to protect designers and clients. For no one to be cheated or fooled. Designers should be paid for the work they have done and the client should receive the design they requested and paid for. With this idea in mind, we started our big design family many, many years ago. Guided by the fact that this segment is extremely important to us, in terms of safety and security, we have changed it, significantly. Really. We have no longer wanted to leave anything to chance but wanted to put complete direct working between clients and designers in one transparent, legal and rounded framework.
From now on, every registered client on Geelancer design platform will have the opportunity to hire any registered client through our new GeeMee™ service where everyone is safe and sound.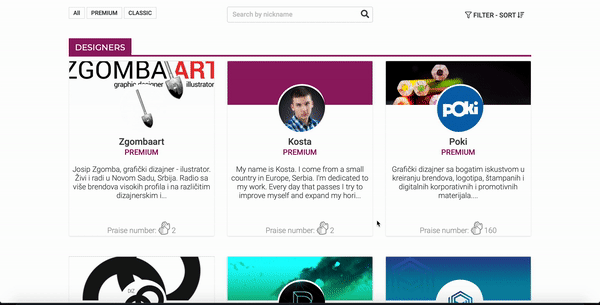 Clients have the opportunity to search for designers through GeeMee ™ on several basics: the type of design in which they are the best, the number of design contest wins, the number of successful jobs done, the number of compliments and more. Thus, clients will easily and quickly find designers who are specialized in the design they need. And then they can hire them by creating a new GeeMee ™ job. They will describe what design they need, who they are, what they do, what the cost of the job is, and the deadline for completing the job. The designer can accept or reject the offer. Or negotiate through a special chat within the business offering. When the designer accepts the job and design collaboration is contracted, the client pays Geelancer the total cost of the job. And money is safe and secure with us. Same with the design contests. For our customers to be completely safe, the money must be with us, in escrow. If the job is completed successfully and the client evaluates the exchange successfully, the designer will be paid. Otherwise, we will intervene and check that the designer has met all that was required of him through the job description. If so, he will be paid. If not, he won't. Simply.
And much, much more…
Of course, there are more changes, but these ones are the biggest and most significant. In the next series of blog posts, we will in detail explain other options, possibilities and features which are now possible within new Geelancer design platform and marketplace.